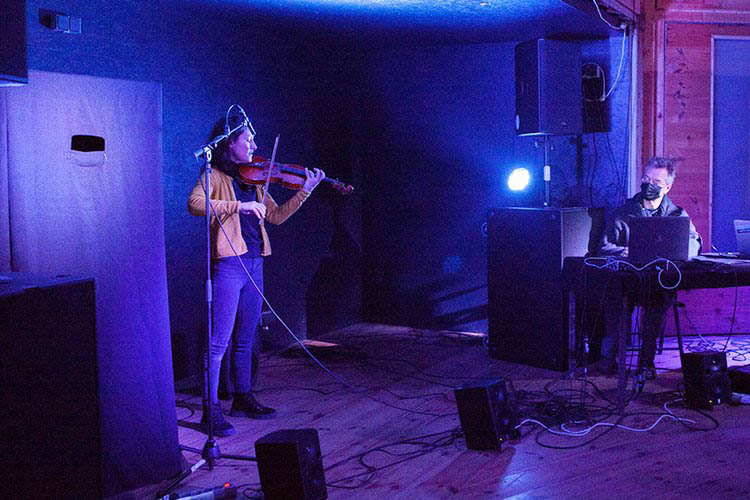 for violin, voice and live electronics

Comissioned by: "Beethoven und wir" – HMTMH

Instrumentation: Violin and Voice (one player) and Live Electronics (4 Loudspeakers) or Contrabass and Voice (one player) and Live Electronics (4 Loudspeakers)
Premiere (violin): October, 2021, Kunstraum Tosterglope, Germany by Marijana Janevska
Premiere (contrabass): May, 2021, "Beethoven und wir" - Festival, HMTMH, Germany by Lluis Böhme
Other performances: November, 2021, Schallfront Festival, OSCO, Hannover, Germany
June, 2022, ZKM, Karlsruhe, Germany
November, 2022, ICSC, TUS Midlands, Ireland
Duration: 8 min.

The piece is connected to and inspired by Beethoven's "Grosse Fugue" and Beckett's theater play "Play". The material is built upon the decoupling of the melodic, rhythmical and gestural aspects of the theme of Beethoven's fugue, while the structure of the piece is derived from Beckett's theater play. The piece uses three speakers that, together with the player, form a "ghost quartet". The line of the player, which is very organic with very slow timbre changes, is opposed to the panning of the speakers being very abruptly changed. Everything that is played live is being recorded and then played by the speakers building a kind of a double cannon, that is being more and more distorted. There is a dialog in play between the violin, voice and electronics where the musical gestures pass from one to the other, but at the same time merging into one meta-sound, where it is difficult to distinguish what is played live and what comes from the speakers.
Your content goes here. Edit or remove this text inline or in the module Content settings. You can also style every aspect of this content in the module Design settings and even apply custom CSS to this text in the module Advanced settings.